Developing Competitive Edge by Making Supply Chain More Efficient To Meet Delivery Deadline

Serving customers in the best way possible and within the said deadlines helps in strengthening business relations. For any business, managing delivery deadlines is a major concentration area. Achieving delivery deadlines with an effective and efficient supply chain helps managers to priorities and ensure quality service for the clients.
Working capital is a cost for any organization. Finished Goods and Raw Material inventory is a big part of this cost. These costs ( liabilities ) are essential for continuous operation of a plant. If these are managed improperly, they can stop the operation activity for any plant.
As we are one of the largest manufacturers of Soda Ash in our country, it is important for us to priorities timely delivery of raw material to our clients in major industries like detergent, glass and Food Industry (baking soda).  In India, all soda ash plants are located in the western part of the country while end consumer is located right from Baramulla in J&K to Kanyakumari in TN.
Till 2018, GHCL was servings its customers mainly from plant or the warehouses located within Gujarat. But, this practice was making it difficult to meet the deadlines and this had its own implications. Marketing team had to devote significant time to manage the missed schedules of consumers. These issues  occupied much time of marketing teams engaged in the field with the clients.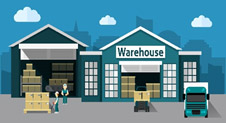 GHCL believes in extending quality service to its customers and to achieve this goal our  MD Mr. R S Jalan took charge of the situation and outlined an effective plan for serving customers within the delivery deadline of 24 hours anywhere in India. The marketing and logistic teams jointly organized the brainstorming session to find solutions and plan ahead. They concluded that achieving  the 24 hours deadline was only possible once the material was stocked near the customer location. With this aim in mind, the company identified the locations and more than a dozen warehouse were opened for stocking raw material throughout the country during 2018-2019. This decision helped streamline the supply chain and the issue of missed delivery deadlines decreased significantly. This significant achievement helped us in various ways:
This helped us increase our reach and serviceability to even low volume customers
Gained the trust of customers towards serviceability lead time
Increased customer loyalty
We believe that with significant improvement in our supply chain, we can boast of having an edge on our competitors.