Corporate Branding through Social Media Platforms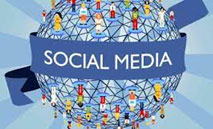 Corporate branding is defining what your company stands for and how it is perceived both in the market and within the company. Effective corporate branding strategy should be such that it achieves a perfect understanding of the company's ideology, vision and mission. Effective corporate branding leads to a strong audience to connect on multiple levels through different brand touch-points.
Achieving the desired corporate branding goal effectively is a dream for any organization. With changing trends each day, corporates constantly explore new ways of delivering effective and relevant content to the prospective target audience. An approach like pay-per-click, SEO (Search Engine Optimization) can help build a reputation. Apart from these, social media marketing is one of the most impressive platforms for promoting corporate values, belief, and sharing ideas that can draw desired attention.
It is very essential to analyze the platforms for delivering the right message and increase the audience connection with the organizations. This can be done through a well-planned content structure along with a suitable time to deliver the same. At GHCL, we priorities communicating organizational culture and values through well-planned content combinations that add value for stakeholders. Promoting CSR initiatives, Impact stories, business updates, thought leadership, employee's views etc. gives a clear picture of the organization's strong association with all stakeholders.
The trends on social media platforms keep changing all the time and it is very important to keep track of new evolutions and optimize the usage of available tools. Today organizations extensively take benefit from a platform like Facebook, LinkedIn, Instagram, Twitter etc. and cannot avoid presence on these social media platforms based on their business offerings. Facebook business page helps organizations connect with people and share work-related ideas and updates with a wide range of audience who might not visit the company website on a regular basis. Whereas LinkedIn helps businesses to establish a strong network with like-minded business people. Branding on LinkedIn helps via a well-planned content structure that helps to enhance reputation. A well-drafted profile will also help the job seekers to explore job postings shared by the company.
Today content marketing plays a vital role and is exceptionally important for building brand awareness that encourages our connections to engage and comment on various topics that we share on our social media platforms. Therefore, it becomes very essential for any business to analyze desired responses through their online presence and then outline an effective content strategy that helps promote the values, stakeholder connect and mission of the organization.
Always remember, whichever platform we think is suitable for business promotions, the content designed for all the platforms should be structured in a way that adds value to the brand and gives positive insight into the organization's practices, beliefs and legacy. The content must adapt to the changing trends and algorithms for each platform. This will help the organization to be in line with the interest of the page followers and visitors and match content with the overall user profile of the said platform.