Big on Captive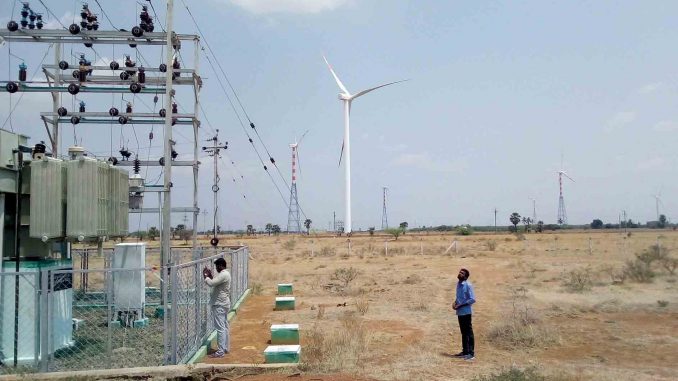 Mechanisation of almost every process involved in the textile industry from fibre to fabric has led to increased consumption of electricity. In today's scenario where the power purchased from state electricity boards works out to be much higher than solar or wind energy, it is not surprising that more and more players in this energy-intensive industry are opting for cost-effective green energy. This is more so in a state like Tamil Nadu that leads the country in the textile sector and, at the same time, is the highest producer of wind energy. The state has a total installed wind capacity of 8,764 MW and its solar capacity at the end of 2018 stood at 2,055 MW.
It must be noted that the coastal state witnesses wind flows for almost six months in a year; the winds peak during the southwest and northeast monsoon months and experience a moderate flow for four months. It also receives 300 days of clear sunshine. A large number of textile-related industries, especially spinning mills, are making use of this and other renewable sources of energy for captive power generation. Measures such as the bundling of wind power projects, the policy of accelerated depreciation (AD) and the Technology Upgradation Fund attracted the power-intensive industries in the southern state to invest in captive wind power plants.
GHCL, which is one of India's leading manufacturers of home textiles, also decided to start captive wind power generation for its spinning and textile mills almost 15 years back. Sree Meenakshi Mill, which was amalgamated with GHCL in 2002, is on the ambitious path of using green energy for 90 percent of its total requirements. Its manufacturing units in Paravai, in Madurai district, and Manaparai, in Trichi district, produce 30,000 metric tonnes of yarn annually. (The workforce is dominated by women.)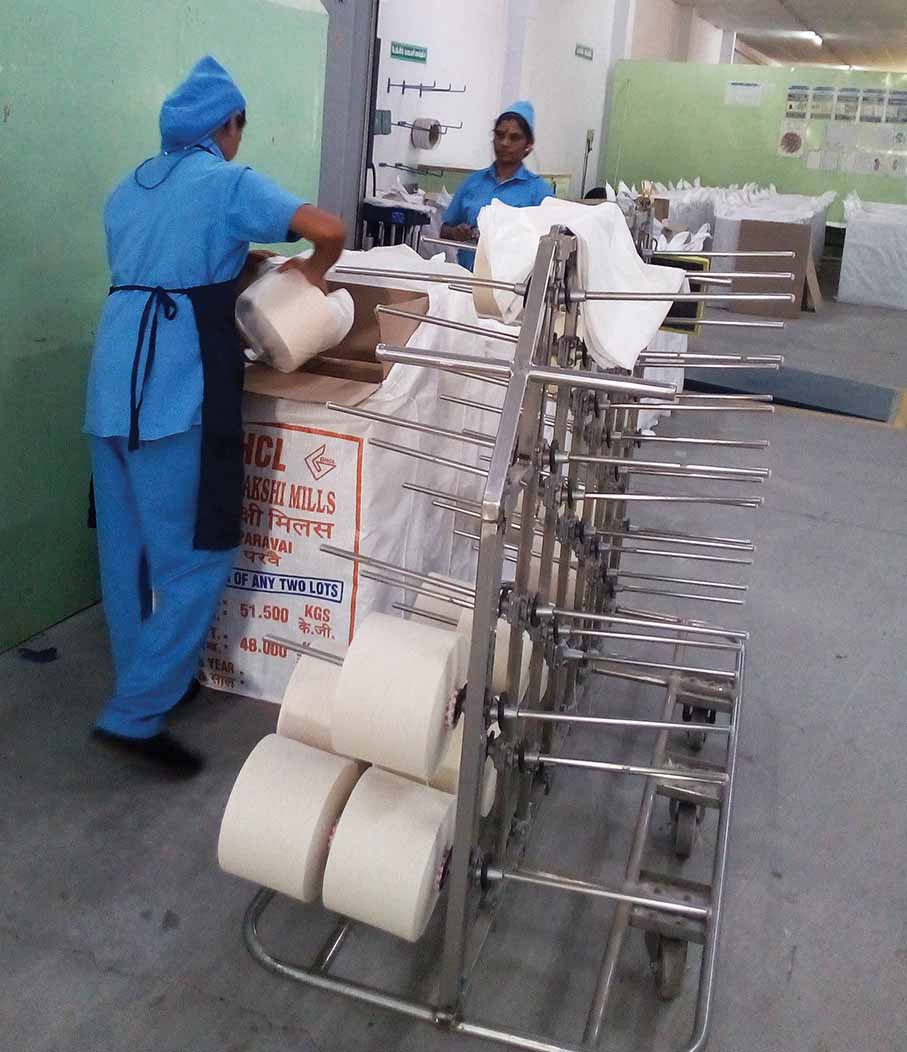 It was during 2003-04 that Sree Meenakshi Mill began the captive use of wind energy by setting up six wind turbines, with 600 kW of capacity each, in Sanganeri. A year later six more wind turbines were set up in Dharapuram, each with a power generation capacity of 800 kW. Both batches of wind turbines have been set up by Enercon.
With the idea of upscaling its wind power generation programme, the company installed eight wind turbines of 2.1 MW capacity each at Kayathar during 2015-16. These were installed by Suzlon Energy Limited, which is also responsible for their maintenance. The wind energy produced is first fed into the substation located near the turbines and then transmitted to the southern grid. The total power generated through wind energy from all these units is nearly 54 million units.
During the current financial year, the company also decided to buy 30 million units of wind energy from private players at the rate of Rs 5.60 + Re 0.57 MD charges, which comes to Rs 6.17 per kWh. The rest of its power requirements are met through supply from the Tamil Nadu Electricity Board (TNEB) at the rate of Rs 7.47 per kWh, which includes MD charges.
GHCL's textile unit at Vapi in Gujarat has an annual production capacity of 45 million metres of finished fabric per annum. It has a 2.1 MW captive wind power generation facility, which was set up in March 2017 by Suzlon Energy at Jodia in Jamnagar. GHCL produces 27.2 MW of captive wind energy, which fulfils 35 per cent of the energy requirement of the textile division.
The cost of installing 1 MW of wind power capacity is Rs 70 million. Although the investment can be recovered over a period seven years, it is cheaper to buy wind power from other private players than to generate it," says Sivabalasubramanian, chief executive officer (CEO), yarn division, GHCL Limited.
He says the company is not planning to generate wind power on its own as of now. "This is because of the latest discouraging government policies for captive wind power producers," he adds.
In fact, there has been disenchantment among captive wind power producers because of several decisions taken by the central and state governments. This includes the withdrawal of the banking facility for new wind mill projects. The state government also plans to restrict the banking facility for existing wind mills.
"The banking facility is the anchor for wind energy projects. Since wind comes under the seasonal category, the withdrawal of the banking facility will be a challenge," says Sivabalasubramanian.
At present, Tamil Nadu Generation and Distribution Corporation Limited (TANGEDCO) is charging 14 per cent in kind as banking charges for the banked units for the period April to March, with respect to wind turbine generators installed prior to March 2018. Meanwhile, for new projects, the banking of power has been restricted, to be adjusted in the same month. The unadjusted units of power will be treated as sale to TNEB. Currently, the cost of wind power purchased by the board is Rs 3.37 per unit. The unadjusted banked units will be settled by TNEB at the rate of 75 per cent of the wind tariff (that is, 75 per cent of Rs 3.37) to the owner of the wind energy generator.
The Tamil Nadu government is planning to introduce 15-minute slot-to-slot consumption, which is also a major concern for captive consumers, in respect of both wind and solar energy, says the CEO. The GHCL yarn division has benefitted from AD with respect to wind power projects. However, the central government has reduced the AD benefit from 80 per cent to 40 per cent for new wind power projects, he adds.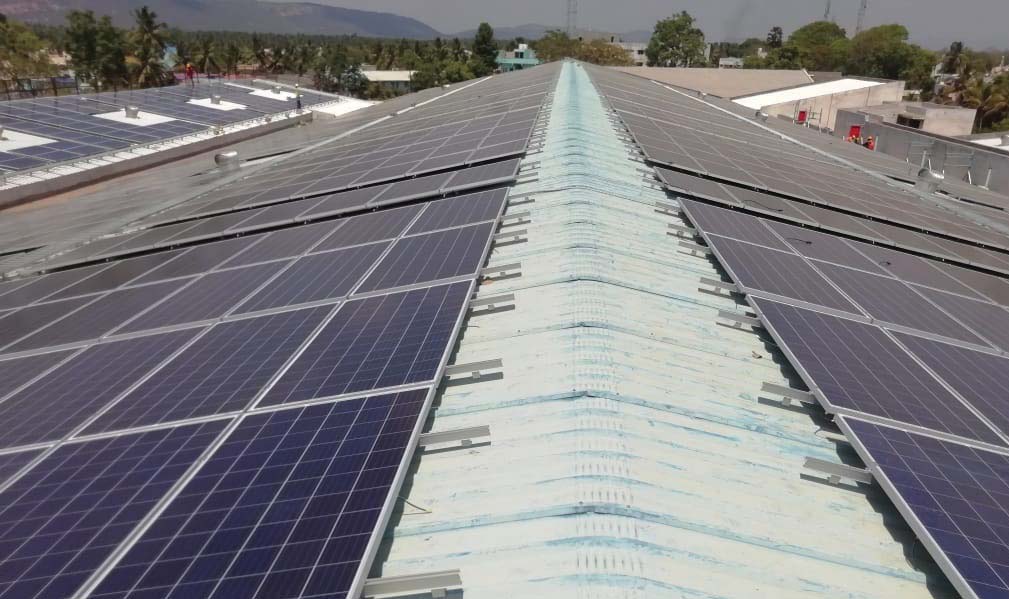 The AD incentive allows the owner(s) of new wind assets to reduce their taxable incomes by claiming a much higher-than-usual depreciation allowance in the early years of the asset's operation. AD was first introduced in the country in the early 1990s and enabled businesses in states such as Tamil Nadu to quickly install captive wind power capacity.
Moving to solar power
The solar power investment cost per MW has declined dramatically over the years. Today, the solar power investment cost is Rs 40 million per MW, almost half that of wind power. So, in May this year, the company decided to add solar power to its portfolio in its quest to use more green energy. Rooftop solar plants of 2 MW capacity were installed in the Paravai and Manaparai units for captive consumption by the yarn division. Rooftop solar systems, constituting 4,296 solar panels, were installed on three buildings of the Paravai manufacturing unit and 1,920 solar panels were installed on two buildings of the Manaparai unit. Tata Power Solar, which has installed the solar systems at both places, is responsible for maintenance. "If the going is good, we will increase our solar power capacity to 10 MW in three years' time," he says.
According to GHCL's CEO, the company's dependence on thermal power has reduced from 64 million units to 34 million units in respect of the total requirement of 120 million units for the year 2019-20. Thus, it is able to avoid carbon emissions of 24,300 CO2e metric tonnes.
"During 2018-19, renewable energy comprised 49 per cent of the total energy mix of our yarn division's captive consumption. In the current fiscal, we are planning to increase the share of renewable energy to 72 per cent."
"We have set a target to use 90 per cent of our total power requirements through green energy, be it wind or solar, and are optimistic of meeting this target in the coming years," says Sivabalasubramanian.
By Sarita Brara