Vocational Training and Self- Employability
Vocational Training and Self- Employability
Vanita
Story Highlight: One of the most important things we can do in our lives is learn and use our skills to help others. Vanita always believed that new learnings will open the doors of opportunity for her and she was right.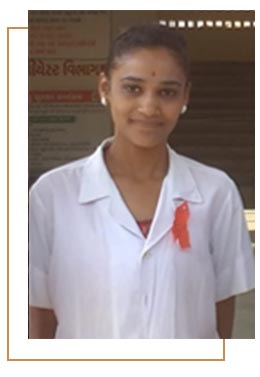 Vanita, from Babarkot, Jafrabad Taluka used to live near the sea with her family of eight members. Living by the sea is not easy and Vanita's house was always surrounded by salt fields. They would earn a living by serving as Pundits in the village temple and performing 'puja' in the village households. But it was becoming increasingly difficult for the family to survive and her brother had to quit studies and start working as a labourer to earn money.
Vanita received free education till class 10th after which she too had to discontinue her studies. Her maternal uncle was aware of her dedication and interest and offered monetary help till she completed class 12th. But Vanita wanted to be financially independent and extend support to her family. She had very little hope of getting any more support from her family members until one day the volunteer from GHCL Foundation Trust came to her village and spoke about the various vocational courses which were free of cost.
The Foundation also took full responsibility for training the students and guaranteed placement support. She convinced her parents and visited the training centre at Jafrabad with her father. Finally, Vanita's father agreed to let her join the 'Nursing course'. For 6 months, she underwent training followed by two months of on the job training at the HCG hospital in Bhavnagar. After the training, Vanita got a job at Savichar Hospital, Mahua.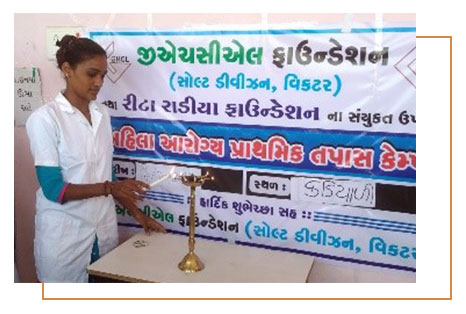 Soon she was selected for the Cancer Detection Camp organised by GHCL Foundation Trust and sent for advance training to Apollo Hospital, Ahmedabad. Today, Vanita is doing her bit for the society by spreading awareness about various types of cancer among the women in the villages and reiterating the importance for primary health check-up.
She says – "I am not a doctor, but for these women I am no less than a doctor. I have organized many awareness programmes along with physical check-up camps. I have also referred the suspicious cases for further treatment. I feel proud that today I am able to contribute both to the society and extend financial support to my family".
Independent Jaysukh
Story Highlight: Determination and belief enables a person to be goal oriented, righteous and independent. An understanding of one's strengths and limitations coupled with confidence can bring about great transformation.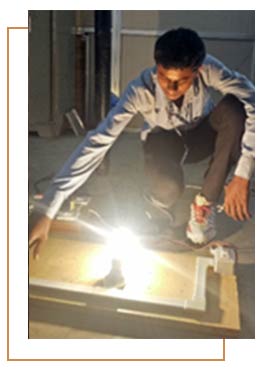 20-year-old Jaysukh is from a small coastal village, Babarkot near GHCL Jafrabad salt works in Gujarat. Jaysukh was unable to clear his SSC exam because of his inability to read and write properly in Gujarati. Jaysukh's parents were dependent on the seasonal labour work and so he started working as a land-labour. However, Jaysukh always dreamt of leading a comfortable life like others.  
One day he heard about GHCL's Vocational Training Institute and decided to seek admission in Electric Trade. He joined the training with a lot of enthusiasm but gradually he started facing problems in understanding the technical terms in English. At one point, he almost gave up. However, he was fortunate enough to find a teacher at the institute who did not give up on him. This made him realise the value of education and he worked very hard towards completing the course. He improved his English and learned computer software too. 
Today, due to his determination, Jaysukh has a job and is able to support his family. Jaikush and his family are very thankful to GHCL Foundation and the trainers who helped him overcome his weakness and achieve what he desired in life. 
Jigar Patel, A self-reliant young man
Story Highlight: His confidence in the face of hardship was driven by the ability to let go of the negativity that held him back and gradually with his hard work he was able to flourish.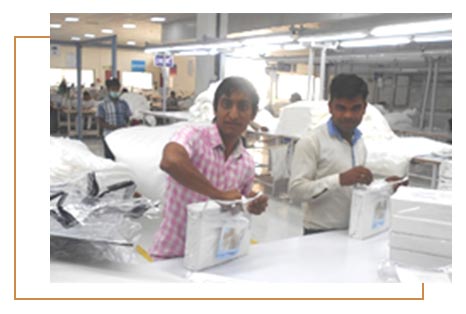 Jigar Patel, is a straightforward young man living in the village of Karambele near GHCL's Home Textile Division, Bhilad. When Jigar failed his SSC exam, he was frustrated and depressed. For two years, he was at home and his economically weak family was very worried about his future.  
His mother, who was a member of GHCL Women's Self-Help Group, had heard about GHCL's Vocational Training Institute and got him enrolled. Jigar underwent the 3-month training for Quality Checking & Packing of Textiles. Initially, it was tough for Jigar but gradually, as he paid attention and participated in every activity like stitching, computers, communication, life skills and personality development sessions, he started enjoying his work. He attended 'On –The- Job Training' at GHCL's Textile Division and performed very well. So, after the training, he was appointed in the company. Today, Jigar is self-reliant and can help his family too.
Everyone in the village treats him very respectfully. His supervisor says: "Jigar is a hard-working boy. Every task given to him; he completes with great precision". Jigar and his family are happy and reciprocate the gratitude towards GHCL Foundation.