CSR Impact Stories – Vocational Training and Self- Employability
Vanita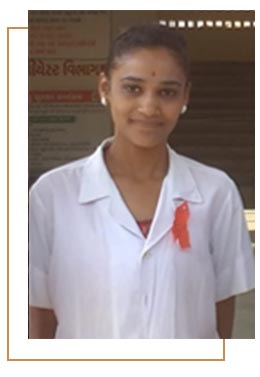 Vanita, from Babarkot, Jafrabad Taluka used to live near the sea with her family of eight members. Living by the sea is not easy and Vanita's house was always surrounded by salt fields. They would earn a living by serving as Pundits in the village temple and performing 'puja' in the village households. But it was becoming increasingly difficult for the family to survive and her brother had to quit studies and start working as a labourer to earn money.
Vanita received free education till class 10th after which she too had to discontinue her studies. Her maternal uncle was aware of her dedication and interest and offered monetary help till she completed class 12th. But Vanita wanted to be financially independent and extend support to her family. She had very little hope of getting any more support from her family members until one day the volunteer from GHCL Foundation Trust came to her village and spoke about the various vocational courses which were free of cost.
The Foundation also took full responsibility for training the students and guaranteed placement support. She convinced her parents and visited the training centre at Jafrabad with her father. Finally, Vanita's father agreed to let her join the 'Nursing course'. For 6 months, she underwent training followed by two months of on the job training at the HCG hospital in Bhavnagar. After the training, Vanita got a job at Savichar Hospital, Mahua.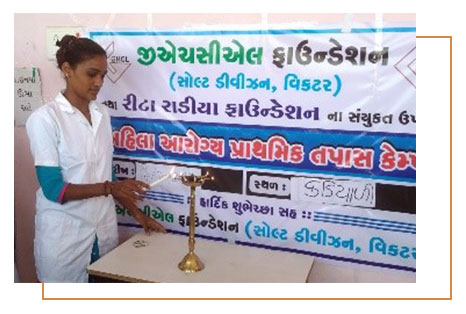 Soon she was selected for the Cancer Detection Camp organised by GHCL Foundation Trust and sent for advance training to Apollo Hospital, Ahmedabad. Today, Vanita is doing her bit for the society by spreading awareness about various types of cancer among the women in the villages and reiterating the importance for primary health check-up.
She says – "I am not a doctor, but for these women I am no less than a doctor. I have organized many awareness programmes along with physical check-up camps. I have also referred the suspicious cases for further treatment. I feel proud that today I am able to contribute both to the society and extend financial support to my family".