The joy of fulfilling family needs (The Agony of a Mother)
CSR Impact Stories – Health & Sanitation
The joy of fulfilling family needs (The Agony of a Mother)
Sanitation is a basic need for every individual. There are still many people in our country residing in far flung villages for whom having a toilet in their house is still a dream.
VegadGhughabhai Lakshmanbhai lives in a small village known as Victor situated in Rajula Taluka near the seashore of Gujarat. Some years ago, six members of his family lived in a kuccha house including his old mother. Ghughabhai worked as a labourer along with his wife. The money they earned was not enough for the construction of a toilet.
Ghughabhai wanted construct a toilet in his house especially for his old mother. The old lady had to go out everyday and she hada very weak eyesight.
Situation was such that often Ghughabhai or his wife had to take leave and stay back  at home so that they could take their mother out for toilet.  It was getting very difficult for them to continue in these circumstances.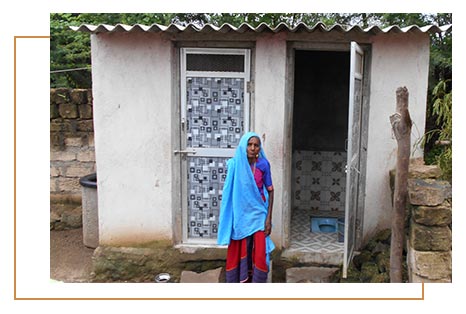 One day he came across members from GHCL Foundation Trust who told him about the sanitation scheme for his village. He discussed with his family and decided to accept financial help from GHCL Foundation to build a toilet in his house.
With his efforts and the financial help he received from GHCL Foundation, he was able to construct a toilet in his house. Today his family members are very happy with the decision. For Ghughabhai, his dream of extending comfort to his family has been fulfilled and for him it is not less than a great celebration.