Sunitaben Patel – A women entrepreneur
CSR Impact Stories – Women Empowerment
Sunitaben Patel – A women entrepreneur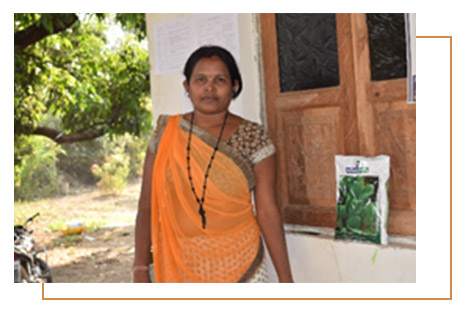 Sunitaben Babubhai Patel lives in a small village Karambele of the Umargaon block of Gujarat. Her home is always filled with happiness and laughter, where she lives with her husband, mother-in-law, and kids. For the last four years, Sunitaben has been leading the developmental programmes for women in her village. Her exuberance is evident in an activity of papad making or teaching sewing, in a motivational trip or in the meetings and trainings of the money saving association (Self Help Group) or learning agriculture. 
She had been participating in all these activities but her aspiration was to do something different. Being a responsible homemaker her idea was to do something which would provide her the mental and emotional space to take care of her family and allow her to sell fresh vegetables grown in her land. Her desire to create her own identity made her restless for days.
GHCL Foundation initiated the programme of sustainable farming, with the purpose to draw the attention of the farmers towards more sustainable ways of farming and reduce preference of harmful chemicals. This practice improves the productivity of the land, the quality of the crops and results in increased income. This thought fascinated Sunitaben and she started experimenting with her own small vegetable farming land.
There was a need for a 'community resource person' to make the residents of other villages aware of these techniques. This person needed to be a fearless entrepreneur who could also win people's hearts with care and affection. Sunitaben spoke to her husband and her mother-in-law, "if I join, will you support me? The meetings with the farmers of the surrounding villages will be proposed, and surveys will be conducted. High quality seeds, organic fertilizers, medicines, and proper advisory will be provided to the farmers." Her husband, and mother-in-law agreed. 
Today, within a span of three months, Sunitaben has been able to sell products worth approximately 12-15 lacs from her depot and has been able to rejuvenate her farm due to the use of organic fertilizers. 
She is now contributing to the development of her village, which has made her and her family contented and happy.