Jigar Patel, A self-reliant young man
CSR Impact Stories – Jigar Patel, A self-reliant young man
Jigar Patel, A self-reliant young man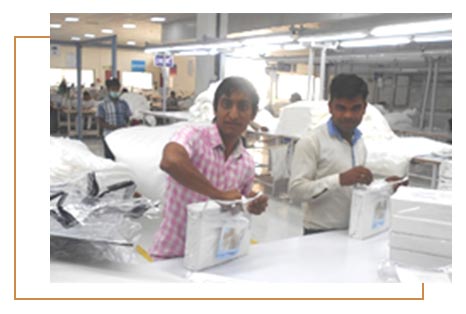 Jigar Patel, is a straightforward young man living in the village of Karambele near GHCL's Home Textile Division, Bhilad. When Jigar failed his SSC exam, he was frustrated and depressed. For two years, he was at home and his economically weak family was very worried about his future.  
His mother, who was a member of GHCL Women's Self-Help Group, had heard about GHCL's Vocational Training Institute and got him enrolled. Jigar underwent the 3-month training for Quality Checking & Packing of Textiles. Initially, it was tough for Jigar but gradually, as he paid attention and participated in every activity like stitching, computers, communication, life skills and personality development sessions, he started enjoying his work. He attended 'On –The- Job Training' at GHCL's Textile Division and performed very well. So, after the training, he was appointed in the company. Today, Jigar is self-reliant and can help his family too.
Everyone in the village treats him very respectfully. His supervisor says: "Jigar is a hard-working boy. Every task given to him; he completes with great precision". Jigar and his family are happy and reciprocate the gratitude towards GHCL Foundation.