CSR Impact Stories – Vocational Training and Self- Employability
Independent Jaysukh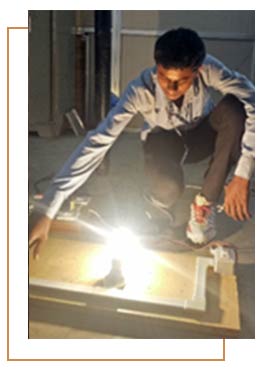 20-year-old Jaysukh is from a small coastal village, Babarkot near GHCL Jafrabad salt works in Gujarat. Jaysukh was unable to clear his SSC exam because of his inability to read and write properly in Gujarati. Jaysukh's parents were dependent on the seasonal labour work and so he started working as a land-labour. However, Jaysukh always dreamt of leading a comfortable life like others.  
One day he heard about GHCL's Vocational Training Institute and decided to seek admission in Electric Trade. He joined the training with a lot of enthusiasm but gradually he started facing problems in understanding the technical terms in English. At one point, he almost gave up. However, he was fortunate enough to find a teacher at the institute who did not give up on him. This made him realise the value of education and he worked very hard towards completing the course. He improved his English and learned computer software too. 
Today, due to his determination, Jaysukh has a job and is able to support his family. Jaikush and his family are very thankful to GHCL Foundation and the trainers who helped him overcome his weakness and achieve what he desired in life.