Education
JIGU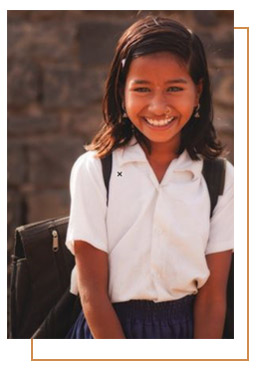 Story Highlight:It took little compassion and love to change Jigu from a silent and non-participative girl to a cheerful student.
Kalpana Makwana, a teacher to students of grade 5-8 at the Government Primary school in Kathivadar village of Rajula District was on a special project on remedial education by GHCL Foundation Trust. She often noticed that all the students responded during the attendance in the school, but WaghJignaNanabhai never responded when her name was called out during attendance.
"Jigu, as she was called, was always lost or preoccupied, sometimes distracted, never attentive.She was mostly silent in class and didn't talk much. I realized that it would be difficult to educate her in the same way as other kids. If given love and compassion, there were chances of bringing a change.
So, I called Jigu and told her to oil her hair, clip her nails and dress properly and I would declare her the "Rose" of the class, honor her with three claps and write her name on the black board. She was overjoyed to hear this.
The next day, Jigu was neatly dressed but with unclipped nails and came to me crying. She said she did not have a nail clipper at home. So, I clipped her fingernails and toenails. Overwhelmed with joy, she ran to each class teacher showing-off her nails and said'look my Kalpana Teacher has clipped off my weird nails'.
Gradually, Jigu started attending my classes. Sometimes she was fascinated by my purse and sandals and asked me to lend them to her. She would often imitate me in class too. I helped her develop an interest in studies. She could recite alphabets but had a problem writing them down. I taught her the basic alphabet. She learnt numbers from 1 to 70, names of days and months in Gujarati and English. She showed signs of academic improvement after attending my classes.
One day Jigu's mother told me 'Jigu has improved and upgraded a lot; she reaches school on time and has stopped troubling all of us at home. My Jigu is very calm and cleaver now'. Tears of joy rolled down her eyes. I was happy, I had never expected such progress."
Kailasha – The wonder boy
Story Highlight: "Happiness lies in the joy of achievement and the thrill of creative effort." (Theodore Roosevelt). The story of Kailasha is a great example of dedicated efforts towards success.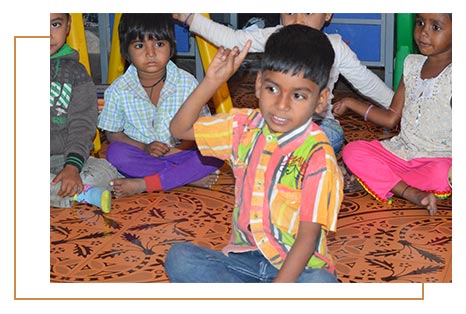 Kailasha is three and belongs to a small and distant village-Medhpur located in the Veraval District of Gujarat. When we met him, he was unable to speak a word because his father's family is deaf and aphonic.
Kailasha, was never motivated to speak.His neighbours tried to get the child to speak but he never said a word.This led the neighbours to believe that the boy might also be suffering from the same problem as his father's family.
When Kailasha started going to the Anganwadi in his village, he began interacting with other classmates. He was exposed to various sounds, rhythms, rhymes, that he enjoyed, but was not helpful in getting him to speak.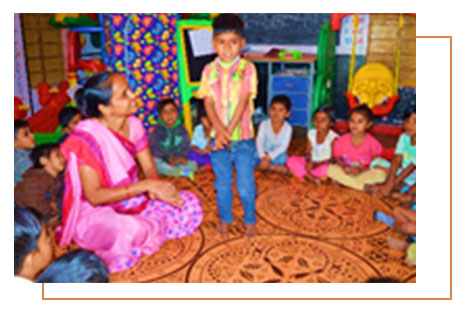 They decided to help the child learn how to speak and be vocal. Various participative activities were designed that prompted him to be involved and learn new words. Slowly and gradually the boy started picking up small words.
Every day he learnt to speak new words and started enjoying his interaction with everyone around him.
Today the boy can speak complete sentences and  has made an attempt at public speaking at a function in the village. He still has a long way to go, but the entire team has taken up this challenge and they treat it as their mission.
Members of Anganwadi and workers of 'Swadeep' approached the education officer of GHCL Limited and shared Kailasha's story with him.