Coconut Farming: A Unique Pension Plan
CSR Impact Stories – Agriculture and Animal Husbandry
Coconut Farming: A Unique Pension Plan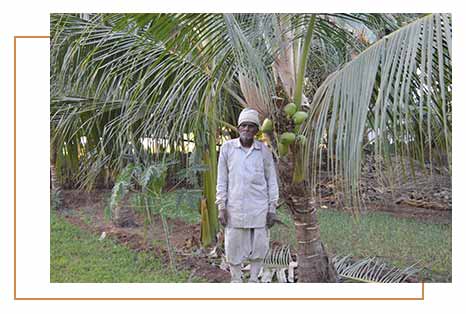 Kumbhabhai had inherited only two acres of land after a family dispute. He was widower, with two sons and ran a small-scale venture. The income was meagre and his sons had to drop out after class 7th.
In order to make ends meet, Kumbhabhai started working on his small piece of land along with his sons. He managed to earn approximately Rs.35000/- in a year. But this was not enough, and his sons had to work in an electronic shop and at times would also drive tractors for the villagers to help their father financially.
Jeevabhai, who was a friend and neighbour, advised Kumbhabhai to visit GHCL Foundation Trust and seek support. The employees at the trust suggested that Kumbhabhai should start coconut farming on his land. This was a onetime investment and needed effort only during plantation. The Foundation trust also provided the saplings and the fertilizers at a very reasonable price.
Kumbhabhai took their advice and today, he is able to earn approximately Rs.1.50,000/- annually.